FAQ's
I have never even been in a boat before, let alone race one - Is this right for me
Previous experience or interest in boats is not necessary. You do not have to have any special abilities to powerboats racing. Our competitors are ordinary people from all walks of life and our safety standards are excellent from our rescue crews to officials, right through to the construction of the power boats your safety is always our number one priority. Powerboat racing is very affordable due to the low running costs. We cater for all ages with our youngest competitors being just 9 and our oldest currently 68!
I'm not sure which powerboat class I would like to try.
Depending on age & how much of a speed freak you are will determine which boat racing options are best for you. To get you started look at the table below or click here to see more in depth information on the powerboat racing classes. Age Class 9-16 GT15 - Competitiors may start training at 8 1/2 years old.


| | |
| --- | --- |
| Age | Class |
| 9-16 | GT15 - Competitiors may start training at 8 1/2 years old. |
| 14+ | GT30 & OSY400 |
| 16+ | T850, F4, O/Board Hydro |
| 18+ | F2, S/Cat |
How do I get a boat racing licence ?
First you must join your nearest powerboat club, we have a list of Powerboat Clubs. Then contact the Royal Yachting Association for a licence application form.
You must arrange with your powerboat club a basic training session where you will be taken through a training session where you will be taught basic handling of the boat and taught the do's & don'ts of boat racing.
When you have returned your application you will be issued with a basic licence and your free to attend powerboat club events to start gaining experience and collecting your upgrade signatures.
When you have gained enough experience and you are deemed competent by the officials to take part in the British Championship races, your licence will be upgraded to full national status.
| | |
| --- | --- |
| License Upgrade | Signatures |
| Basic - National | 2 x Testing 3 x Races |
| National - International | 3 x National Races |
Where do I buy a powerboat ?
Powerboat GP currently directly offer 'turn key' packages for the GT15 & 30 power boats that have a 3 week delivery time from date of order. We will be expanding our offers in the near future but we will certainly assist you with as much information as you need for any class of powerboat that you wish to invest in.
Like all forms of motorsport there are different classes available to suit all budgets & abilities. Each powerboat racing class is unique and full of exciting, adrenaline filled fun.
Where do I find the powerboat racing rules ?
You will need to contact the Royal Yachting Association (RYA) to obtain a copy of the current powerboat racing rules.
How much will the boat racing licence & Entry fees cost me ?
The basic costs for powerboat clubs, licence fee & boat racing entry costs are very low in comparison to other forms of motorsport. The fees obviously vary according to age & powerboat class that you race in.
| | | | |
| --- | --- | --- | --- |
| Age | Club M/Ship (Annual) | License Fee (Annual) | Race Entry Fee (Per Event) |
| 14+ Competiting In Senior Classes | Various | £232.00 | £100.00 |
| 14-15 Competiting in GT30 Only | Various | £150.00 | £85.00 |
| 9-16 Competing in GT15 Only | Various | £54.00 | £70.00 |
I am not interested in actively racing but would still like to get involved?
Poweboat GP is always looking to recruit new scrutineers, Powerboat Race officials and Marshalls at our events. If you are interested in joining us in a non boat racing capacity please feel free to contact us or for more general information on Power Boats look over our website.
Clips
2012 Powerboat GP - Ta...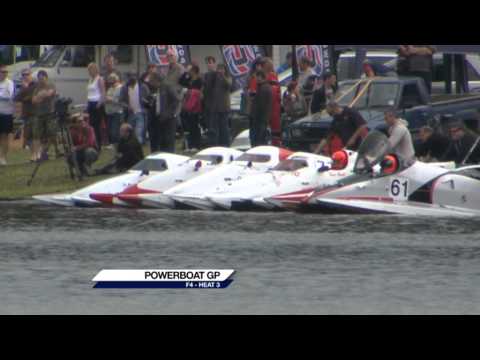 Clips Gallery
Tweets
It was a pleasure to share the water with ThunderCat Racing UK this weekend at the UIM WNT Rother Valley Grand Prix… https://t.co/YaPWUUmyeS
https://t.co/R2kCj3dCOC
https://t.co/mN4wyRar1J
Driver Focus
Driver:
Mike Pillow
Place of Living: Welspool, UK
Race Number: 42
Racing Since: 1967
Driver Profile
Class Focus